Saint Andrews Age-Friendly Community Designation Renewal 2023 – 2026
Every three years, the Town of Saint Andrews has to apply for renewal of the Age-Friendly Community Designation. In December of 2022, the Town was awarded the renewal from 2023 – 2026. Great job community!
Saint Andrews Age-Friendly Community Committee
In November 2019, The Town of Saint Andrews was formally recognized as an Age-Friendly Community in the Province of New Brunswick. The Town is one of 10 formally recognized communities in the Province.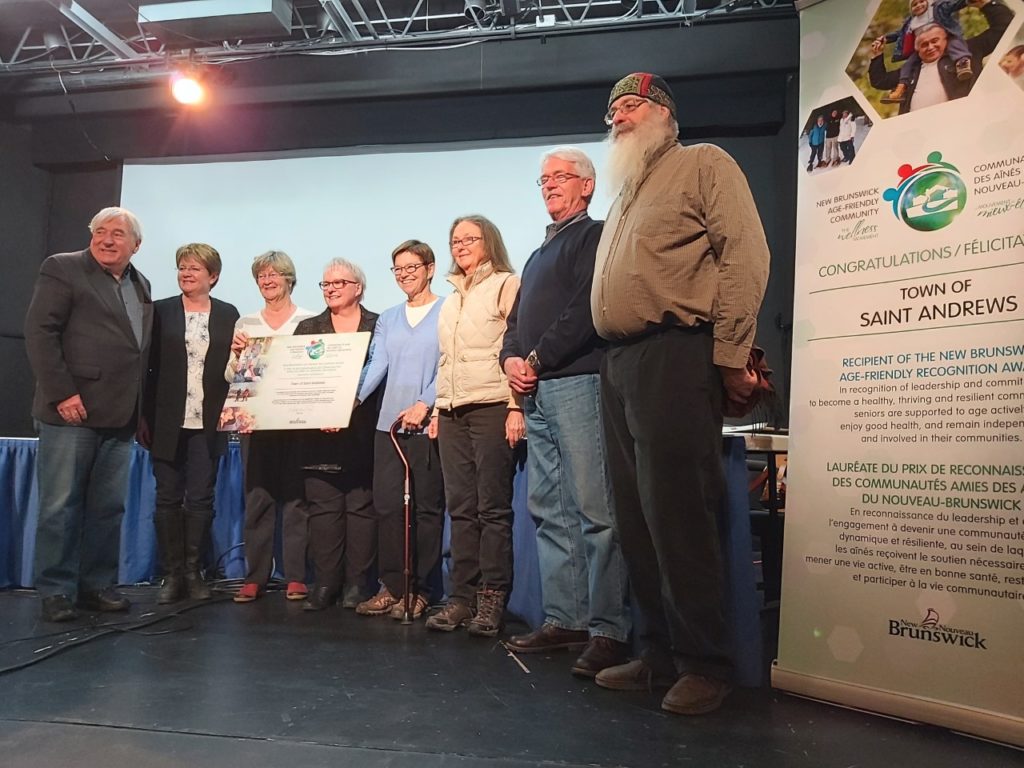 Photo Left to Right: Mayor Doug Naish, Lezlie Leblanc Co-Chair Age-Friendly Committee, Sue Corbyn Age-Friendly Committee, Honourable Minister Dorothy Shephard Province of New Brunswick, Caroline Davies Co-Chair Age-Friendly Committee, Sandy Morgan Age-Friendly Committee, Keith Womba Age-Friendly Committee, Jamie Steele Age-Friendly Committee.
February 2020 Town of Saint Andrews Official Recognition as an Age-Friendly Community.
Age-Friendly Recognition Letter Town of Saint Andrews
Canada is an international leader in the field of Age-Friendly Communities and members of the World Health Organization Global Network of Age-Friendly cities and communities. To date, there are 560 communities in Canada who have become or are becoming Age-Friendly, mainly led by seniors, partnered by municipalities, and supported by provincial governments. Age-Friendly Communities, whether in urban, rural, or remote settings, are essential to not only the health and wellbeing of older people, but essential across all age demographics.
Saint Andrews Age-Friendly Initiatives:
To be recognized for the Age-Friendly efforts, communities must complete the following four basic steps based on the World Health Organization (WHO) framework. These steps demonstrate a community's commitment to Age-Friendly principles through community engagement and action. Each step is designated to help communities increase awareness and gathering support from key partners (e.g. citizens, local agencies, non-government organizations, and local businesses.)
1. Secure community commitment by having the Municipality commit to the AFC approach. This involves having a resolution passed to actively support, promote and carry out the initiative on behalf of the community.
"Motion 93-10/17: It was moved by Councillor Gumushel, seconded by Councillor Boyd, and carried that it be resolved that the Council continue to actively support and promote the work of the local Age-Friendly Committee and to consider as part of the 2018 Budget process, possible contributions towards each milestone in becoming an Age-Friendly municipality.
2. Establish an Age-Friendly Steering Committee and find support in order to actively engage the community, and in particular seniors.
The first meeting of Saint Andrews and Area AFC Steering Committee was held on April 10, 2017. 
3. Conduct an Age-Friendly assessment consultation with the community and seniors.
Community Assessment & Recommendations: Town of Saint Andrews Age-Friendly Community Committee
4. Establish a comprehensive action plan, including measures that respond to the needs identified by seniors and other members of the community. The Town has agreed to share the Community Assessment, Recommendations & Action Plan on their website. The Age-Friendly Steering Committee approved this document on June 20, 2018.
Age-Friendly Action Plan Updated 2021
Examples of Key Projects Completed to Date:
Development of a new Wellness Centre

Have medical/wellness facility inclusive of a variety of medical modalities, as well as be an education centre on a variety of health issues.

Create a Resource Booklet of all programs available to seniors, families, those who have handicaps, financial difficulties, autism, those living with a family member with dementia or mental illness.
Update current Municipal Plan and Zoning By-Laws allowing for different types of housing – especially in the Downtown Core.
Advocate for public transportation and active transportation.
Make Water Street a one-way from late June to early October.

Town in 2020 conducted a pilot project and will be continuing with the process for the 2021 summer season.

More benches and garbage cans in our parks and along sidewalks and trails.

Age-Friendly Committee purchased 7 new benches in 2020 to be placed along the Van Horne Trail in strategic locations.

Dementia and Caregiving Guide – St. Thomas University Social Action Placement Dementia Caregiving Guide 2021
The Province of New Brunswick has implemented the Age-Friendly community recognition program, adopted the criteria set out by the WHO and the Government of Canada.
About Age-Friendly Communities
The Age-Friendly Community Initiative, developed by the WHO, aims to encourage cities and towns to retrofit their environments, policies, and programs, to enable seniors to live healthy, active, engaged lives in their own homes and community.
Age-Friendly Communities:
Recognizes that seniors have a wide range of skills and abilities;
Understands and meets the age-related needs of seniors;
Respects the decisions and lifestyle choices of seniors;
Protects those seniors who are vulnerable;
Recognizes that seniors have a lot to offer their community; and
Recognizes how important it is to include seniors in all areas of community life.
History of Age-Friendly Communities Imitative
In 2006, the WHO developed the Global Age-Friendly Cities Project. This project brought together cities from around the world that were interested in supporting healthy aging by becoming more age-friendly. These cities gathered information from seniors, senior-care providers, and other groups and individuals with an interest in age-friendly communities. This information helped to identify eight key domains of community life in which communities can become more age-friendly. These domains are:
Outdoor spaces and buildings;
Transportation;
Housing;
Social participation;
Respect and social inclusion;
Civic participation and employment;
Communication and information; and
Community support and health services.